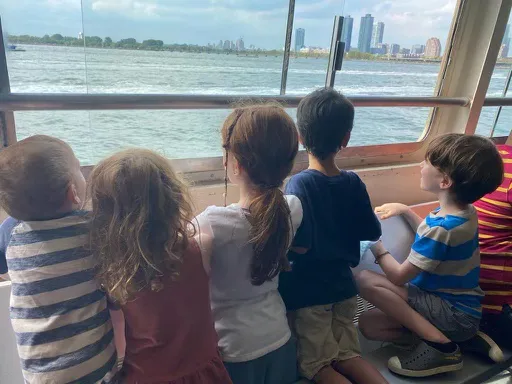 Where else on mainstream media other than on Bari Weiss' Common Sense would one find a post like this. I may be jumping the gun including Weiss' Substack creation in the deeply problematic category that is MSM, but if it is not there already, helping clean that particular swamp, it soon will be. What is coming through to us on Common Sense and on her Honestly podcast is going to play a big part in helping the world to return to sanity and , well, common sense.
I was in a somewhat dark mood this morning when I opened my email. At the top of a too-packed inbox was the link to this beautiful – but not untinged with some sadness – personal post from a young mother, Bethany Mandel. Its intriguing headline drove me straight into it, 'I Never Wanted Kids. Number Six Is Due In a Few Months'. If it were a novel we would be reading it as an allegory about hope, resilience and redemption – and the grace of God. But is is not a novel, it is about real flesh and blood humanity and the truth that the meaning of life is there, in life, for all to see.
The conclusing paragraphs (following) of Bethany's post put her story in a universal context. Read the entire post to feel the wisdom and the joy which pulses through every line.
Our friends and family have stopped asking us if we're done. To be fair, we said we were after numbers four and five. Our kids are already petitioning for a lucky number seven. Around the country and around the world, people are having fewer children, if they're having any at all. The result of this population catastrophe is a hot topic among sociologists and experts.
The anti-natalists run a wicked good PR game. Even among mothers, the "wine mom" content is what rules social media: with kids portrayed as tiny dictators and mothers feeling the need to booze or hide in bathrooms in order to make it on a day-to-day, hour-to-hour basis. There are any number of arguments to be made against procreation, like that babies accelerate us to an environmental doomsday by using up our finite resources now and filling our landfills with diapers that take centuries to break down. But those arguing for protecting the Earth by not making babies are just existing on Earth, not living in it.
I'm not trying to single handedly repopulate the Earth over here. Having kids, especially lots of them, is now counter-cultural; it's so far outside the norm that I'm used to random strangers commenting every time we're all out in public. But it's the most fulfilling expression of hope and belief in the future. I like to think that, by making not just one or two babies, but by bringing into the world a whole brood, we are doing our part to inject more vitality into it.
Read this entire life affirming Common Sense post here.